Welcome To The Valentine City Chorus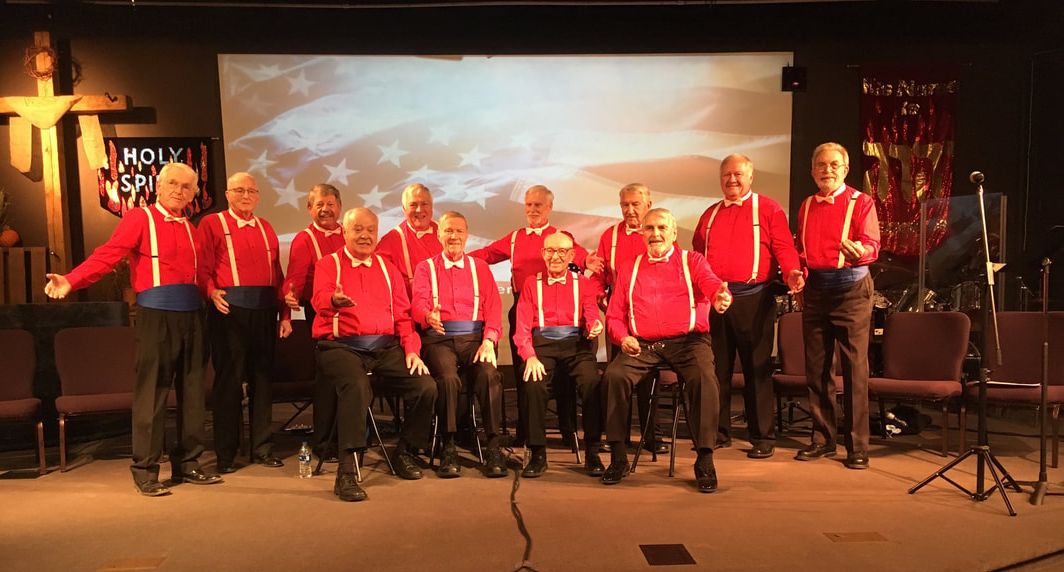 ​
---
The Loveland Chapter of the Barbershop Harmony Society is a group of men who sing in the barbershop style. We sing as a chorus, as well as in quartets.What is Barbershop Style Harmony?
by Dick Johnson
Barbershop Harmony is a style of unaccompanied vocal music (A Cappella) characterized by four part chords for every melody note. Occasional brief passages may be sung by fewer than four parts. (An example of Barbershop Style singing can be found here.)
​Our chorus name reveals that we are based in Loveland, Colorado, but our membership is derived from many places, such as Loveland, Fort Collins, Greeley, Estes Park, Cheyenne, Berthoud, Windsor, and others. The regional nature of our chorus has enhanced our musical program, as well as the enjoyment and fellowship of barbershop singing throughout the northern Front Range. The main goal of the Society and the Loveland Chapter is to preserve and encourage a style of music that is uniquely American and has been around for over a hundred years.

We meet every Tuesday evening from 7:00 to 9:30 pm at the First Christian Church in Loveland, Colorado, located at 2000 N. Lincoln Avenue. See Map.
Our Chorus is presently meeting for rehearsals every Tuesday evening from 7:00 to 9:00pm
​2000 North Lincoln in Loveland, Colorado
​
If you would like to try singing in the
​A Cappella Barbershop Style, you are welcome to come visit us any time you would like. You can come to just listen or you may jump right in and sing with us. We are always looking for new singers to join our chorus and quartets. Anyone interested in visiting or joining may simply show up at one of our meetings. If you have any questions please do not hesitate to contact us. mail@valentinecitychorus.comor call (970) 699-2844
---
---
We do in person Singing Valentines! Order now.
If you're looking for a quartet, click the button below and fill in the form. Or you can call the phone number above.
​
Our quartets are now available and
​working hard to expand their repertoires.

​​
---