On This Page:
Links
In The News
News Archive
Barbershop Harmony Society Fact Sheet
Definition Of Barbershop Harmony
Origins Of Barbershop Harmony
History Of The Barberpole
Barbershop Glossary

---
Need a Quartet??
Best Regards -- Phone (970)686-2271 ​(Unavailable till further notice)
Four The Good Times -- (970)461-5747 or email: fourthegoodtimes@yahoo.com
---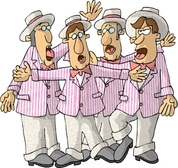 ---
Barbershop Harmony Society Fact Sheet
All the facts: who we are, what we do, how to reach us.
Society name:
· The Society is properly referred to as the Barbershop Harmony Society.
· Legal name: The Society for the Preservation and Encouragement of Barber Shop Quartet Singing in America, Inc. or SPEBSQSA, Inc. Note: no periods between letters of abbreviated form.
Size:
· More than 30,000 members in more than 800 chapters in the United States and Canada; world's largest all-male singing society.
· Approximately 2,000 quartets registered with The Barbershop Harmony Society headquarters; an estimated 1,000 more quartets are active but not officially registered.
· Affiliated organizations in: Australia, Germany, Ireland, New Zealand, South Africa, Sweden, The Netherlands, Great Britain. There are also barbershop singers in Denmark, Japan, Saudi Arabia, Uganda, China, Hungary, Spain, Brazil, Argentina, Iceland, and the Russian Federation.
· Governed by an elected board of directors; administered by a professional staff at Harmony Hall in Nashville, Tennessee.
Motto · "Keep The Whole World Singing."
Founding · First meeting: April 11, 1938 at the Roof Garden of the Tulsa Club in Tulsa, Oklahoma.
Mission · The Barbershop Harmony Society brings men together in harmony and fellowship to enrich lives through singing
Activities of the organization:
· Education of members and the general public in music appreciation, particularly barbershop singing.
· Advocacy at all levels of society to keep recreational and social singing an important part of our culture.
· Charitable projects on a local and national basis, including many funded through Harmony Foundation, the Society's official charity.  Public performances enhance community cultural life, preserve the art form, and bring cheer to all.
· Quartets and choruses contribute more than 100,000 man-hours per year singing for more than half a million people at churches, schools, hospitals, senior centers, etc.
· Music publishing and distribution of cassettes, compact discs, DVDs and videotapes for entertainment and education.
· Contests in quartet and chorus singing at local, regional, and international levels.
· International champions named in chorus, quartet, and college-quartet divisions at international convention each July; international seniors champions named at midwinter convention each January
Education programs:
· Harmony College, a week-long school held each summer, brings together more than 600 Barber-shoppers from around the world with a world-class faculty of vocal coaches, arrangers, choreographers, and educators to explore all facets of the barbershop hobby.
· Directors College provides instruction in conducting barbershop choruses.
· Regional Chapter Operations Training Seminars held each fall teach members how to run their local chapters, recruit members, develop musically and better serve their communities.
· Visits by staff music specialists enhance performance and education programs in local chapters.
· The Society publishes numerous manuals and produces videos on vocal techniques, singing skills and chapter administration
Youth Outreach programs:
· The Young Men in Harmony program is designed to preserve the art form by introducing it to a new generation of singers.
· Harmony Explosion camps give high school students and teachers the opportunity to explore harmony with their peers.
· The MBNA America Collegiate Barbershop Quartet Contest selects a national champion from colleges across the continent.
· Educator outreach introduces barbershop to music teachers at all levels.
· Many Barbershoppers are active in their communities, in parent-teacher associations, in arts advocacy groups and in education coalitions, working to preserve arts education in school curricula.
Charitable and Community activities:
· Harmony Foundation, Inc., is the Society's official charity. Donations made to the Foundation's general fund special projects of the Barbershop Harmony Society, including Directors College scholarships, Harmony Explosion Camps, Heritage Hall Museum of Barbershop Harmony.
· Barbershoppers donate sizable amounts of money and time, and numerous performances to local charitable activities and vocal music education programs in their communities.
What is barbershop harmony?:
· Four-part, unaccompanied, close-harmony singing, with melody in the second voice, called the "lead."
· Tenor (counter-tenor voice) harmonizes above the lead singer; bass sings the lowest harmonizing notes, and the baritone provides in-between notes, to form consonant, pleasing chords.
· Barbershop is a "melting pot" product of African-American musical devices, European hymn-singing culture, and an American tradition of recreational music.
· Melodies in the vocal and skill range of the average singer, with lyrical emphasis on simple, heartfelt emotions: love, friendship, mother, moon & June & the girl next door.
contents copyright of the author and copyright (c) 1/10/05 SPEBSQSA, Inc.
Barbershop Harmony Society
110 7th Ave. N.
Nashville, TN 37203-3704
(800)876-7464 (SING)
Direct calls: 615-673-(extension)
info@barbershop.org
fax (615)313-7620 Membership, Events, Mkt
fax (615)313-7615 Harmony Marketplace
---
Definition of Barbershop Harmony by Dick Johnson
Barbershop Harmony is a style of unaccompanied vocal music characterized by consonant four part chords for every melody note. Occasional brief passages may be sung by fewer than four parts.

The voice parts are called tenor, lead, baritone and bass. The melody is consistently sung by the lead, with the tenor harmonizing above the melody, the bass singing the lowest harmonizing notes below the melody, and the baritone completing the chord either above or below the melody. The melody may occasionally be sung by the bass, but not by the tenor except for an infrequent note or two to avoid awkward voice leading, and in introductions or tags (codas).

Barbershop music features major and minor chords and barbershop (dominant-type) seventh chords, resolving primarily on the circle of fifths. Sixth, ninth and major seventh chords are to be avoided except where demanded by the melody, while chords containing the minor second interval are not used. The basic harmonization may be embellished with additional chord progressions to provide harmonic interest and rhythmic momentum, to carry over between phrases, or to introduce or close the song effectively.

Barbershop interpretive style permits relatively wide liberties in the treatment of note values -- staying within proper musical form -- and uses changes in tempo and volume to more effectively create a mood and tell a story artistically.

Relative to an established sense of tonality, the melody line and the harmony parts are enharmonically adjusted in pitch to produce an optimum consonant sound. The resulting pitch relationships are often considerably at variance with those defined by the equal temperament of fixed pitch instruments. Use of similar word sounds in good quality and optimum volume relationships by each of the voice parts further enhances the sensation of consonance by mutual reinforcement of the harmonics (overtones) to produce the unique full or ÒexpandedÓ sound characteristic of barbershop harmony.


---
The Origins of Barbershop Harmony (
c
ourtesy of Heritage Hall Museum of the Barbershop Harmony Society)
Was barbershop harmony actually sung in barbershops?
Certainly -- and on street corners (it was sometimes called "curbstone" harmony) and at social functions and in parlors. Its roots are not just the white, Middle-America of Norman Rockwell's famous painting. Rather, barbershop is a "melting pot" product of African-American musical devices, European hymn-singing culture, and an American tradition of recreational music -- a tradition SPEBSQSA continues today.
Immigrants to the new world brought with them a musical repertoire that included hymns, psalms, and folk songs. These simple songs were often sung in four parts with the melody set in the second-lowest voice.
Minstrel shows of the mid-1800s often consisted of white singers in blackface (later black singers themselves) performing songs and sketches based on a romanticized vision of plantation life. As the minstrel show was supplanted by the equally popular vaudeville, the tradition of close-harmony quartets remained, often as a "four act" combining music with ethnic comedy that would be scandalous by modern standards.
The "barbershop" style of music is first associated with black southern quartets of the 1870s, such as The American Four and The Hamtown Students. The African influence is particularly notable in the improvisational nature of the harmonization, and the flexing of melody to produce harmonies in "swipes" and "snakes." Black quartets "cracking a chord" were commonplace at places like Joe Sarpy's Cut Rate Shaving Parlor in St. Louis, or in Jacksonville, Florida, where, black historian James Weldon Johnson writes, "every barbershop seemed to have its own quartet."
The first written use of the word "barbershop" when referring to harmonizing came in 1910, with the publication of the song, "Play That Barbershop Chord" evidence that the term was in common parlance by that time.
Tin Pan Alley era: Edison's talking machine spreads harmony nationwide
Today, we are accustomed to receiving all forms of music in every home by way of CD, cassette, radio and video. In the early 1900s, though, pop music success depended on sales of sheet music to the general public.
The songwriters of Tin Pan Alley made their living by appealing to the needs and tastes of the recreational musician. To become a sheet music hit, songs had to be easily singable by average singers, with average vocal ranges and average control. This called for songs with simple, straightforward melodies, and heartfelt, commonplace themes and images. Music published in that era often included an instrumental arrangement for piano or ukulele, and also a vocal arrangement for male quartet.
The phonograph made it possible to actually hear the new songs coming from Tin Pan Alley. Professional quartets recorded hundreds of songs for the Victor, Edison, and Columbia labels, which spurred sheet music sales. For example, "You're The Flower Of My Heart, Sweet Adeline" captured the hearts of harmony lovers, not simply because it easily adapted to harmony, but also because it was heavily promoted by the popular Quaker City Four and other quartets.
Jazz era: changes in American music and social habits
The coming of radio prompted a shift in American popular music. Songwriters turned out more sophisticated melodies for the professional singers of radio and phonograph. These songs did not adapt as well to impromptu harmonization, because they placed a greater emphasis on jazz rhythms and melodies that were better suited to dancing than to casual crooning.
Radio quartets kept close harmony singing popular with many amateur singers, though and these singers were ready for the revival of barbershop harmony that took place in April 1938, in Tulsa, Oklahoma.
Birth of SPEBSQSA the dream of O.C. Cash and Rupert Hall
While traveling to Kansas City on business, Tulsa tax attorney O. C. Cash happened to meet fellow Tulsan Rupert Hall in the lobby of the Muehlebach Hotel. The men fell to talking and discovered they shared a mutual love of vocal harmony. Together they bemoaned the decline of that all-American institution, the barbershop quartet, and decided to stem that decline.
Signing their names as "Rupert Hall, Royal Keeper of the Minor Keys, and O. C. Cash, Third Temporary Assistant Vice Chairman," of the "Society for the Preservation and Propagation of Barber Shop Quartet Singing in the United States" [sic], the two invited their friends to songfest on the roof garden of the Tulsa Club, on April 11, 1938.
Twenty-six men attended that first meeting, and returned the following week with more friends. About 150 men attended the third meeting, and the grand sounds of harmony they raised on the rooftop created quite a stir. A traffic jam formed outside the hotel. While police tried to straighten out the problem, a reporter of the local newspaper heard the singing, sensed a great story, and joined the meeting.
O. C. Cash bluffed his way through the interview, saying his organization was national in scope, with branches in St. Louis, Kansas City and elsewhere. He simply neglected to mention was that these "branches" were just a few scattered friends who enjoyed harmonizing, but knew nothing of Cash's new club.
Cash's flair for publicity, combined with the unusual name (the ridiculous initials poked fun at the alphabet soup of New Deal programs), made an irresistible story for the news wire services, which spread it coast-to-coast. Cash's "branches" started receiving puzzling calls from men interested in joining the barbershop society. Soon, groups were meeting throughout North America to sing barbershop harmony.
SPEBSQSA was born.
For more information, contact the Heritage Hall Museum of Barbershop Harmony at (800) 876-SING
---

History Of The Barberpole

In the Middle Ages, hair was not the only thing that barbers cut. They also performed surgery, tooth extractions, and bloodletting. French authorities drew a fine distinction between academic surgeons (surgeons of the long robe) and barber surgeons (surgeons of the robe). The latter were sufficiently accepted by the fourteenth century to have their own guild, and in 1505 they were admitted to the faculty of the University of Paris. As an indication of their medical importance, Harry Perelman points out that Ambroise Pare, The father of modern surgery and the greatest surgeon of the Renaissance, began as a barber surgeon. The barber pole, as a symbol of the profession, is a legacy of bloodletting. The barber surgeons necessities for that curious custom were a staff for the patient to grasp (so the veins on the arm would stand out sharply), a basin to hold leeches and catch blood, and a copious supply of linen bandages. After the operation was completed, the bandages would be hung on the staff and sometimes placed outside as advertisement. Twirled by the wind, they would form a red and white spiral pattern that was later adopted for painted poles. The earliest poles were surmounted by a leech basin, which in time was transformed into a ball. One interpretation of the colors of the barber pole was that red represented the blood, blue the veins, and white the colors of the bandages.
---
---
Steps To Membership:
Week 1 At your first visit to the Loveland, CO chapter of the Barbershop Harmony Society, you should have been…
• Greeted and signed our guest register
• Given a packet of information about the Society and our chapter
• Given a guest book of music for the evening
• Placed in a voice section suitable to your voice range
• Introduced to members and other guests
Week 2 This week you will be…
• Given a guest book of music for the evening
• Placed in a voice section suitable to your voice range
• Re-introduced to members and other guests
Week 3 This week you will be…
• Given a private voice placement interview to demonstrate your singing ability
• Assigned a singing section based on your voice and preference
• Given a membership application
• Given a guest book of music for the evening
• Re-introduced the members and other guests
Application: You may continue as a guest for as long as you choose. Once you choose to become a member, then you will be continually phased into our total program. The first step is to complete and return your membership application with the necessary dues. Your application will be presented to the Board of Directors for action. After approval by the Board, it will be about two to three weeks until your membership card is presented to you. Related membership materials will be mailed to you from the Society.
Time: Our chapter meets every Tuesday from 7:00 p.m. to 10:00 p.m. We perform regularly and have an opportunity each fall to compete with other Rocky Mountain District barbershop choruses. We also participate in a program called Singing Valentines, where various quartets form and deliver singing valentines to those interested. We eagerly await your participation in all of these activities.
Cost: Annual membership dues for a regular member are currently $10 (chapter), $33 (district), and $115 (society), which totals $158. There is also a one time registration fee of $10. This makes the grand total $168. There are discounted rates based on age, terms of service, student eligibility, etc. Please see the Membership Dues document for more information about dues. Also, if members wish to perform with us, then they are asked to place a deposit down for a formal uniform (tux) and/or purchase the informal uniform (polo shirt). (Deposit monies may be paid over a three month period, if requested.)
If you ever have any questions, then I hope you will not hesitate to ask anyone around you. You may certainly contact us with queries or comments, too.
mail@valentinecitychorus.com
---
Glossary of Barbershop Terms

Afterglow.................... Party after a chapter meeting or show.

AHSOW...................... Ancient and Harmonious Society of Woodshedders (A SPEBSQSA subsidiary devoted to preserving the practice of harmonizing without arrangements); see woodshedding

AIC............................. Association of International Champions

AISQC........................ Association of International Seniors Quartet Champions

Barberpole Cat Songs.. The twelve songs every barbershopper should know. See the Barberpole Cat Songbook in your new member kit.

Barbershop Seventh..... The cornerstone chord of the barbershop style, consisting of the root, the major third above, the perfect fifth above, and the minor seventh above, as in a chord consisting of F, A, C, Eb.

Bell Chord................... A musical arranging device in which a chord is sung as a succession of notes by each voice in turn.

BOTY/BOTM.............. Barbershopper of the Year/Month Ð award presented by many chapters and districts recognizing outstanding efforts.

C&J............................ Contest and Judging program, which trains judges for singing competitions.

CBQC......................... MBNA America Collegiate Barbershop Quartet Contest

COTS.......................... Chapter Operations Training Seminar Ð a weekend administrative training session.

District........................ One of the sixteen geographic and administrative regions of the Society.

DP.............................. District President

DVP............................ District Vice-President

Evaluation................... Analysis and recommendation session Ð the post-competition performance review provided by judges.

Fifth-wheeling............. Joining in without invitation when a quartet is singing; a breach of manners. Wait for the quartet to finish, then ask if you can sing along.

Frank H. Thorne......... chapter-at-large. An ÒinternationalÓ chapter for men who are not active in a SPEBSQSA chapter.

Gang singing............... Informal group singing.

Harmony College......... Weeklong summer educational program for barbershoppers, held at Missouri Western State College.

Harmony Foundation.. A separate, but related organization to SPEBSQSA. The Foundation is the SocietyÕs charity.

HX.............................. Harmony Explosion Camps for high school and college singers.

Lead............................ The man who sings the melody part. The lead line is the melody of a song.

Overtones.................... Tones of higher pitch that are present in every musical sound and whose presence determines the quality of the musical sound. Chords locked in tune and proper volume relationship ÒringÓ with reinforced overtones.

PROBE....................... A SPEBSQSA subsidiary organization of Public Relations Officers and Bulletin Editors.

Registered quartet....... A quartet whose name and personnel have been catalogued at headquarters. Registration gives the quartet exclusive use of its name. Only registered quartets may sing in competition.

Swipe.......................... A progression of two or more chords sung on a single word or syllable; a hallmark of the barbershop style.

Tag............................. A coda; the ending of a song, often repeating the final words and designed to make a complete and satisfying arrangement.

Tune........................... As a noun, the melody of a song; as a verb, to blend and make a more accurate or pleasing sound.

Woodshedding............. Impromptu quartet singing without arrangements; singing by ear.

YMIH......................... Young Men In Harmony